VizEAT: The App That Lets Yout Eat Dinner In A Stranger's Home
Just as the social norm for sharing rides with strangers while using car services such as Uber, Lyft, Via, etc. became less taboo to us, enter VizEat – a meal sharing platform connecting gourmet travelers to local hosts aka the "Airbnb of food". Although founded back in 2014, VizEat grabs our attention as it has recently expanded into other countries such as Spain, Italy, and Germany; (hopefully) the U.S. could be next! Would you be so quick as to host a meal in your home, or better yet, eat in a stranger's home? Get the full read below via Independent.
---
A confession: I like to nose around people's houses. I may not be a snooper, but I love seeing the types of books people own, the records they play or the pictures they put in pride of place to get a glimpse into a person's life. Which is why, sitting in a total stranger's Paris apartment, munching on canapés and sipping wine while ogling their living room, I feel an undeniable thrill of excitement.
It's important to Marie, she says, that the food she serves be in season, which is why we have turnips and caramelized carrots to accompany our slow cooked veal later on, with a fragrant pine nut and sage paste made from the last of the season's bear's garlic leaves. By the time we get to dessert – a blood orange tart presented with half a large Nice lemon on top – we've been given a taste of our host and her life, and treated to a lesser known side of Paris.
The food is delightful, as is the warm atmosphere that comes with being welcomed into someone's home as opposed to a faceless restaurant. But the whole way through dinner, I have a slightly unsavoury question on my mind: why would anyone invite strangers into their home? Aren't hosts worried that, well, anything could happen?
The answer is no, not really. Marie says that, being well travelled herself, she likes meeting new people from different countries and sharing the experience of French cooking. And her sentiments are echoed by other hosts I speak to. Elodie, who I joined on a food tour of Montmartre earlier in the day, loves to share her knowledge about the local community while Benedicte, who shares a family recipe for macaroons, said her husband was more worried about her cooking for strangers than she was.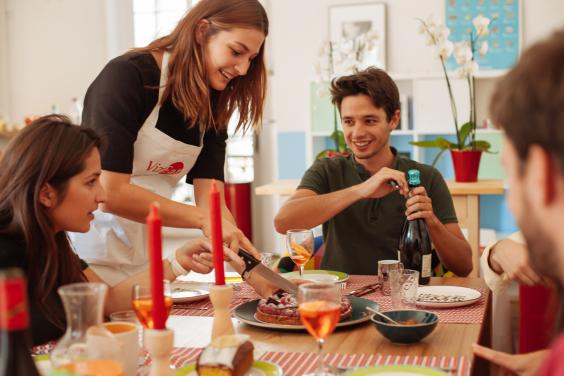 For guests, there's the peace of mind that comes with knowing that the hosts have been fully vetted by the VizEat team; plus they can message beforehand to get a sense of what their chef for the night will be like.
This isn't one for bargain hunters – our three-course meal with Marie cost €59 a head, though hosts set their own prices, so there are cheaper options. But there's no faffing around with cash: bills are taken care of via a secure payment service on the VizEat website. And for a taste of authentic Parisian life, three courses of quality, locally-sourced fare, and Marie's hospitality, it's definitely worth it.